Picchiani & Barlacchi will be guests at Fashion Week at Macy's Center City in Philadelphia as part of the partnership between the American city and Florence, from 7th to 10th October.
The partnership between Philadelphia and Florence began way back in 1964. To celebrate the revival of this long-running relationship signed off last October, Picchiani & Barlacchi has been invited, together with Marakita and Michael Mack, to be part of Fashion Week at Macy's Center City.
Chiara and Giovanna Montauti, the owners and producers of medals and jewels by this historical Tuscan company, together with Benedetta Maracchi from Marakita, a producer of fabric bags using Made in Florence designs and materials, are currently guests during the three-day partnership between the city of Philadelphia and Florence, as ambassadors of the value of Florentine workmanship. Also participating is Michael Mack from Micheal Grey Footwear, a young American that studied at the Polimoda in the Tuscan capital city, and who returned to the United States to create and produce footwear.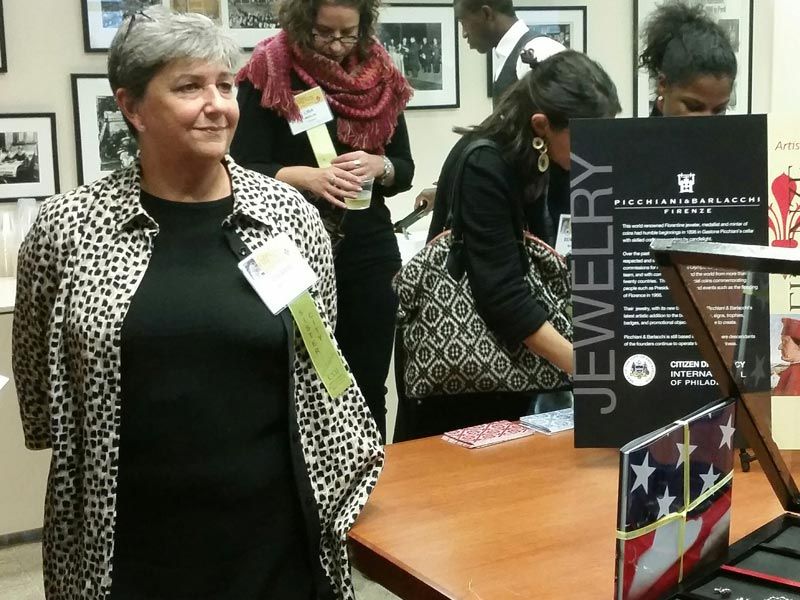 The event represents a great opportunity to relaunch and consolidate the relationship between the two cities. Thanks to the collaboration between the Municipality of Florence, the city of Philadelphia and the Chamber of Commerce with Promofirenze, a number of artisan companies were identified and chosen to exhibit their Florentine expertise at this international event. A possibility such as this represents a magnificent opportunity for the internationalisation of the Made in Italy brand, and to present Florence as a city of art and expertise.
The artisans will have pop-up stands positioned inside the Macy's Grand Court, allowing guests at the event to admire and appreciate a broad range of products, as well as get a feel for the world of Florentine design.
A photography exhibition will also be set up inside the Macy's Grand Court, dedicated to Florentine artisan workmanship and Florence.