Source: EXPO Coin.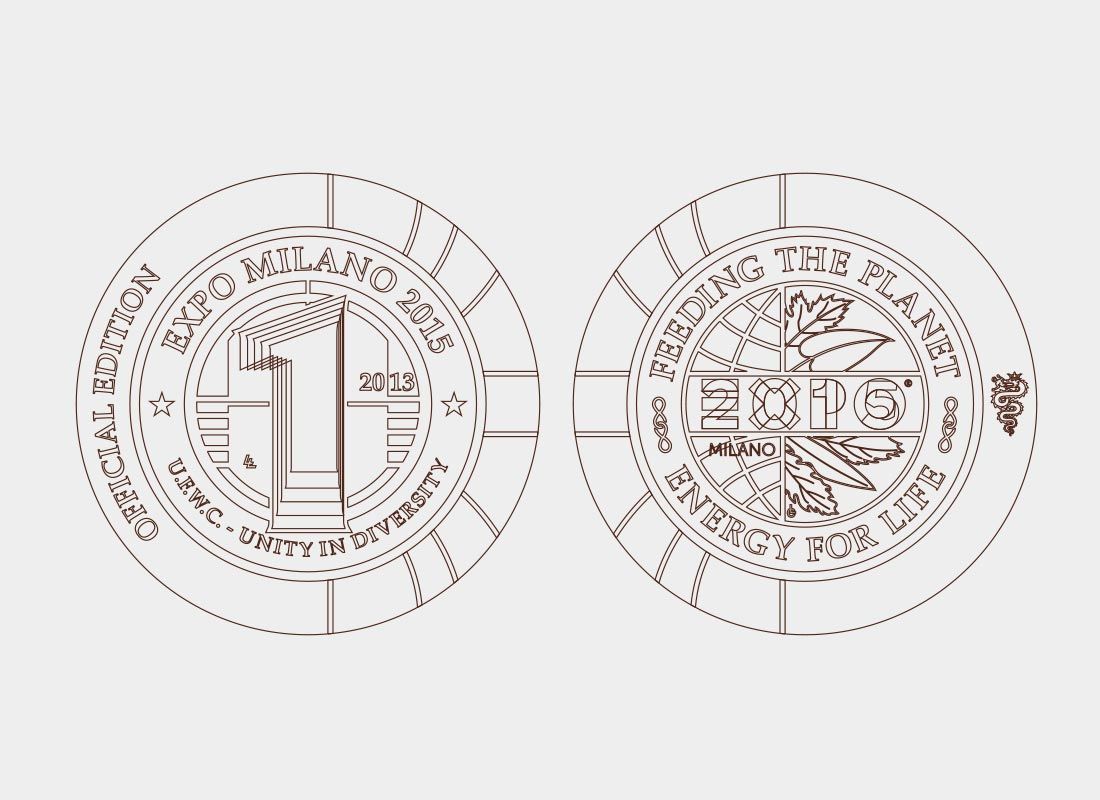 EXPO 2015 in title block with overlapping numbers and letters, the characteristic Expo Milano 2015 logo at the centre, a half-globe, and the leaves of five trees representing the different continents: Maple (America), Pothos (Asia), Agrimony (Africa), Eucalyptus (Oceania), Oak (Europe), portraying the tree of life that spreads its roots throughout the world, with the leaves of five plants characterising the five continents.The encircling inscription "FEEDING THE PLANET – ENERGY FOR LIFE".
Below, under the leaves, the initials LC of the author Laura Cretara, artistic manager at the Italian National Mint and designer of the national side of the 1 Euro coin.
The famous golden number, 1.6180 has been hidden within the precious metal coins, almost invisibly distributed throughout the symbolic tree composed of the leaves of five different plants, characteristic of each continent. Throughout history, never has this number appeared on a coin, let alone a coin so widely distributed as that belonging to the Expo Milan 2105 Official Collection. The logo shown here was selected by way of a contest; a commission of the highest level, headed up by stylist Giorgio Armani, selected the two best proposals and subsequently presented them to a broad-reaching online jury. Last 22nd May 2014, the work of Andrea Puppa was selected as the winner, consisting in a multi-coloured text with overlapping letters forming the word EXPO and numbers composing the year 2015.
The number 1, repeated five times and overlapping, represents the five continents positioned in a display of unity. On the right side, the international ecological recycling symbol is shown to indicate the materials used, along with the date of issue, and in the circle: EXPO MILANO 2015 – U.F.W.C. – UNITY IN DIVERSITY. To the lower left, the initials LL of the author Luc Luycx, coin designer from the Royal Belgian Mint and author of the common side of the Euro coin.
"Unity in diversity" is the message carried by this coin: uniting populations and moving beyond national stereotypes. Its historical importance is even greater than its economical worth; in fact, this is a goal that must be pursued with conviction, with shared hope, and through the unification of cultural and spiritual origins. Its issue, already promoted by Arthur Schlesinger Jr., adviser to the ex-president of the United States, J.F. Kennedy, is part of the project for a common currency, originally named "Eurodollar or Dollaeur", subsequently transformed into "United Money" and finally, "United Future World Currency".
The number 1 therefore symbolises much-desired unity, not only in economic terms, but also in terms of human, social, political and spiritual ties between the nations of various continents with similar ideals.